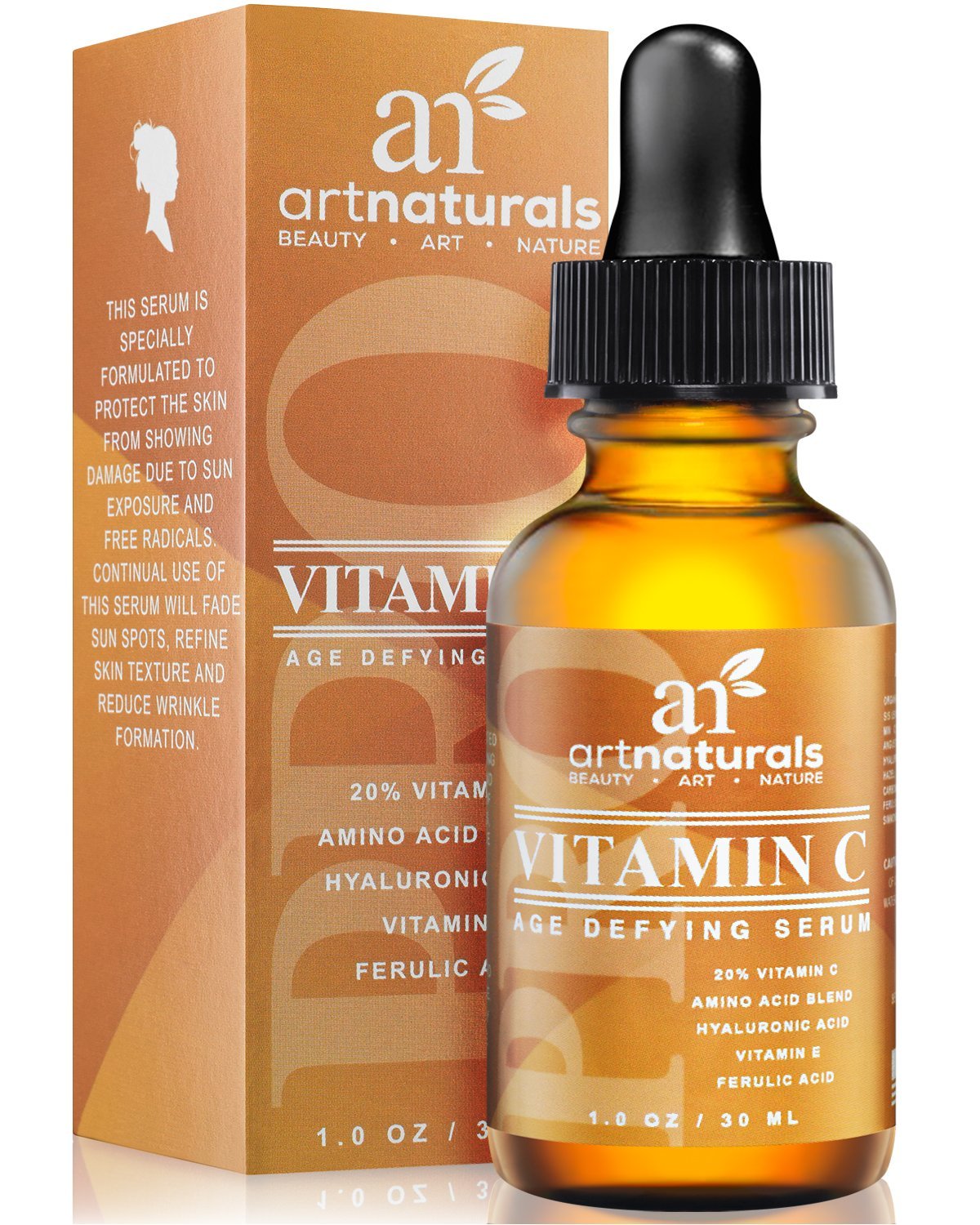 ArtNaturals Enhanced Vitamin C Serum with Hyaluronic Acid
100% CUSTOMER SATISFACTION GUARANTEE: Your satisfaction is what drives us to provide the highest quality all natural and organic health and beauty products on the market. If at any time you are not completely satisfied with your purchase feel free to return it to us for a full and prompt refund. Building relationships of trust with those committed to an organic and natural lifestyle is what we do. If at any time you have ideas about how we can do it better, we would love to hear from you.
UNLOCK NATURE'S HIDDEN POTENTIAL WITH ART NATURALS VITAMIN C SERUM: ArtNaturals is proud to present our new All Natural Vitamin C Serum, the most effective, gentile, organically infused vitamin c serum available today. Blended and refined to reduce signs of aging, eliminate sun spots and damage, restore youthful glow, and minimizing existing wrinkles while preventing new wrinkle formation. ArtNatural stands apart from our competitors due to three unique combinations of scientific innovation, natural concentration, and organic infusion. First in this trio is the driving force in our vitamin c serum, Sodium Ascorbyl a new discovery in the vitamin c structure. Scientists and beauty experts have been able to unlock this new vitamin c derivative allowing us to offer you the numerous cosmetic benefits of vitamin c in a more effective and gentile form. Second is a uniquely concentrated base of pure vegan hyaluronic acid, a naturally occurring and powerful moisture-binding ingredient that keeps skin plump, hydrated and young-looking. Third is an infusion of enriched organic aloe and jojoba oils to provide additional healing and hydration for your skin and unleash powerful antioxidants all while preventing the formation of free radicals which contribute to signs of aging. The gentile stability and rapid absorption of our custom crafted formula allows it to be used along with makeup and daily moisturizers, while not irritating your skin or causing unsightly redness. Like all Artnaturals products you can buy at no risk to you with the confidence of our 100% customer satisfaction guarantee. 72% organic, vegan certified and cruelty free our Vitamin C Serum is made with the highest standards of ecological and environmental respect.